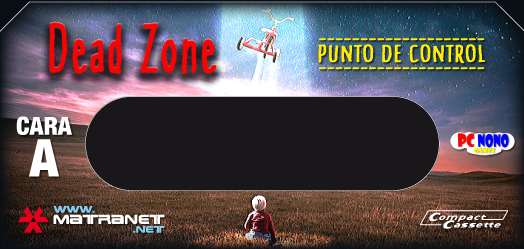 DEAD ZONE Zx Spectrum 48/128k
Las principales ciudades de nuestro planeta están siendo invadidas por OVNIs que abducen a todo ser vivo que encuentra a su paso dejando a las ciudades como ZONA MUERTA. Las grandes potencias como Estados Unidos, Inglaterra, Francia, etc. han unido sus fuerzas para crear una máquina que pueda luchar contra la invasión. Pero ¿quién será capaz de manejar tan poderosa máquina y salvar el planeta? ¿Serás tú?

Caracteristicas:

- Shooter / Acción
- 2 Idiomas: Español / English
- 2 Modos de Juego: Punto de Control / Supervivencia.
- 5 Misiones.
- 3 tipos de Disparos
- 4 Enemigos Diferentes
- Mecánica Aleatoria
Agradecimientos a;
Y a GreenWebSevilla por el asesoramiento y gestion de Itch.io.
Leer más: https://www.pcnono.es/servicios/
Todos los derechos reservados por PCNONOGames
https://www.pcnono.es/politica/
ENGLISH
The main cities of our planet are being invaded by UFOs that abduct any living being that they find in their path leaving the cities as a DEAD ZONE. Great powers such as the United States, England, France, etc. They have joined forces to create a machine that can fight the invasion. But who will be able to handle such a powerful machine and save the planet? Will you be?
Features:
- Shooter / Action
- 2 Languages: Spanish / English
- 2 Game Modes: Control Point / Survival.
- 5 Missions.
- 3 types of Shooting
- 4 Different Enemies
- Random Mechanics
Thanks to;
And to GreenWebSevilla for the advice and management of Itch.io.
Read more: https://www.pcnono.es/servicios/
All rights reserved by PCNONOGames
https://www.pcnono.es/politica/
Purchase
In order to download this game you must purchase it at or above the minimum price of 1.90€ EUR. You will get access to the following files:
DEAD ZONE by PCNONOGames.rar
92 kB