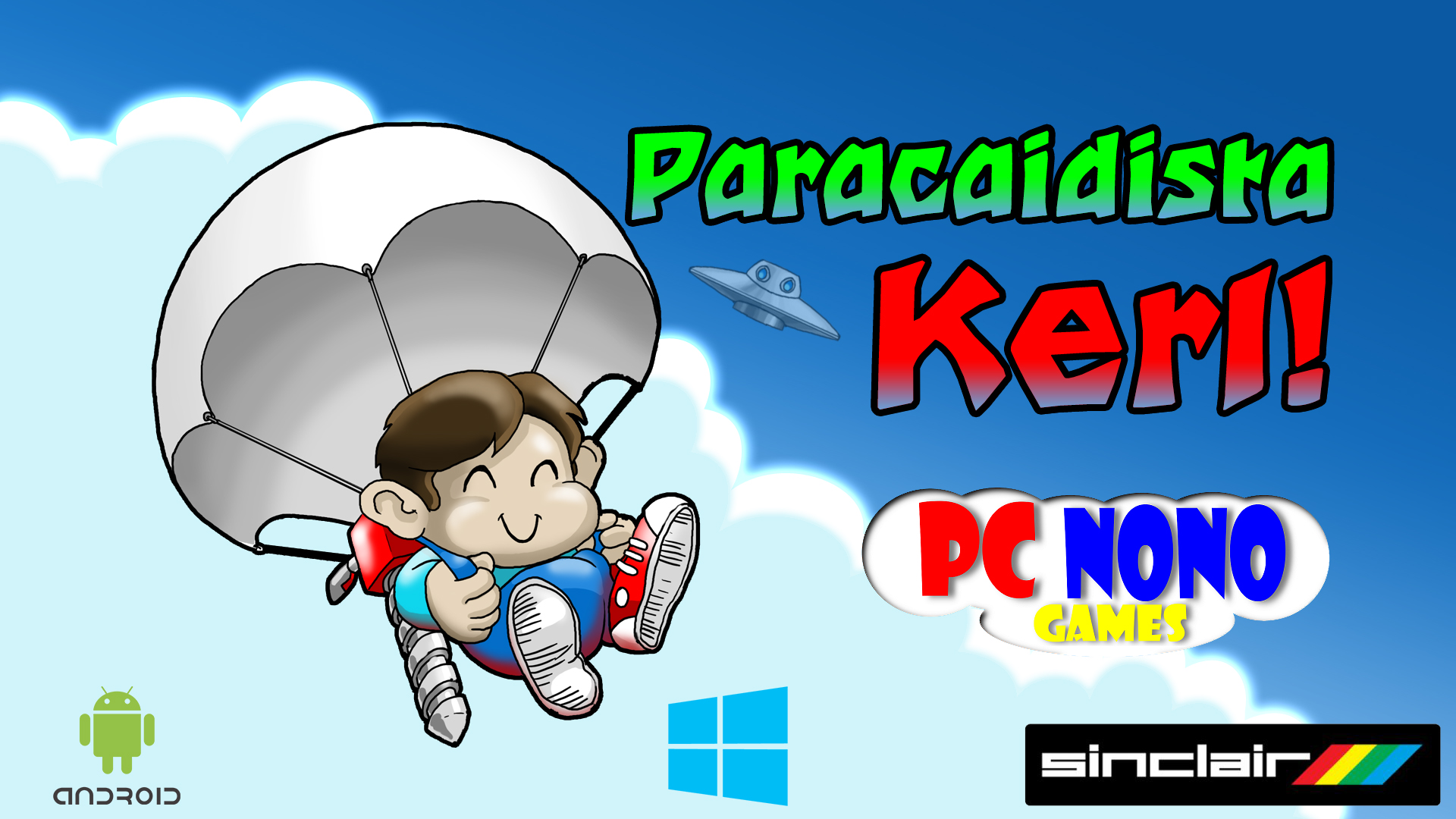 PARACAIDISTA Kerl (Android, Windows, Spectrum)
TRATA DE LLEVAR AL PARACAIDISTA KERL HASTA LA PUERTA DE SALIDA EN LA PARTE DE ABAJO. CUENTAS CON PARACAÍDAS, BALDOSAS Y MARTILLOS PARA LOGRARLO, LOS CUALES PODRÁS REPONER COGIENDO LAS CAJAS. Y NO TE ENTRETENGAS!! UN OVNI TE PERSIGUE!!!

Un Juego muy divertido y desafiante, para jugar unas despreocupadas partidas y medirte contra otros jugadores con el HighScores Online.
El juego está disponible para varias versiones, PC, Android incluso Spectrum.
Se trata de una conversión del original juego de Azimov (Uno de los mejores diseñadores de Juegos de la escena Retro) Paracaidista Kerl que realizó para Spectrum en Basic.
Recreando fielmente la jugabilidad del original juego, pero añadiéndole excelentes gráficos, sonidos y características propias de juegos más actuales como la posibilidad de jugarlo en un dispositivo móvil mediante la pantalla táctil, y medirte con otros jugadores con el HighScores Online.
Disponible en Español e Ingles.
Así que no hay excusa para no jugar a este divertidísimo juego.
CARACTERISTICAS;
- Juego infinito (sin final) mientras sobrevivas
- 5 Mundos distintos
- Versiones en Android, PC, Spectrum
- Español e English
- HighScores Online
- Precioso entorno Pixel Art
- Divertida Música y Efectos de Sonidos
CREDITOS;
Diseño; Azimov
Programación; Antonio Román
Gráficos; Ricardo
Tester; AdolFITO
Producido por PCNONOGames 2020
Actualización 08/09/2020
150 HighScores by AdolFITO
Todos los derechos reservados por PCNONOGames
https://www.pcnono.es/politica/
ENGLISH ******************************************************************************
TRY TO TAKE PARACHUTEMAN KERL TO THE DEPARTURE DOOR BELOW. YOU HAVE PARACHUTES, TILES AND HAMMERS TO ACHIEVE IT, WHICH YOU WILL BE ABLE TO REPLACE BY TAKING THE BOXES. AND DON'T ENTERTAIN !! A UFO PERSECUTES YOU !!!
A very fun and challenging Game, to play a few carefree games and measure yourself against other players with HighScores Online.
The game is available for various versions, PC, Android, even Spectrum.
This is a conversion of the original game by Azimov (One of the best Game designers in the Retro scene) Paratrooper Kerl that he made for Spectrum in Basic.
Faithfully recreating the gameplay of the original game, but adding excellent graphics, sounds and characteristics of current games such as the possibility of playing it on a mobile device using the touch screen, and measure yourself with other players with HighScores Online.
Available in Spanish and English.
So there is no excuse not to play this hilarious game.
FEATURES;
- Infinite game (no end) as long as you survive
- 5 different worlds
- Versions on Android, PC, Spectrum
- Spanish and English
- HighScores Online
- Beautiful Pixel Art environment
- Fun Music and Sound Effects
CREDITS;
Design; Azimov
Programming; Antonio Roman
Graphics; Richard
Tester; AdolFITO
Produced by PCNONOGames 2020
Update 08/09/2020
150 HighScores by AdolFITO
All rights reserved by PCNONOGames
https://www.pcnono.es/politica/
Purchase
In order to download this game you must purchase it at or above the minimum price of 1.90€ EUR. You will get access to the following files:
PARACAIDISTA_KERL_2_150scores.apk
34 MB
PARACAIDISTA_KERL_2_RETOQUEFINALPC.zip
26 MB